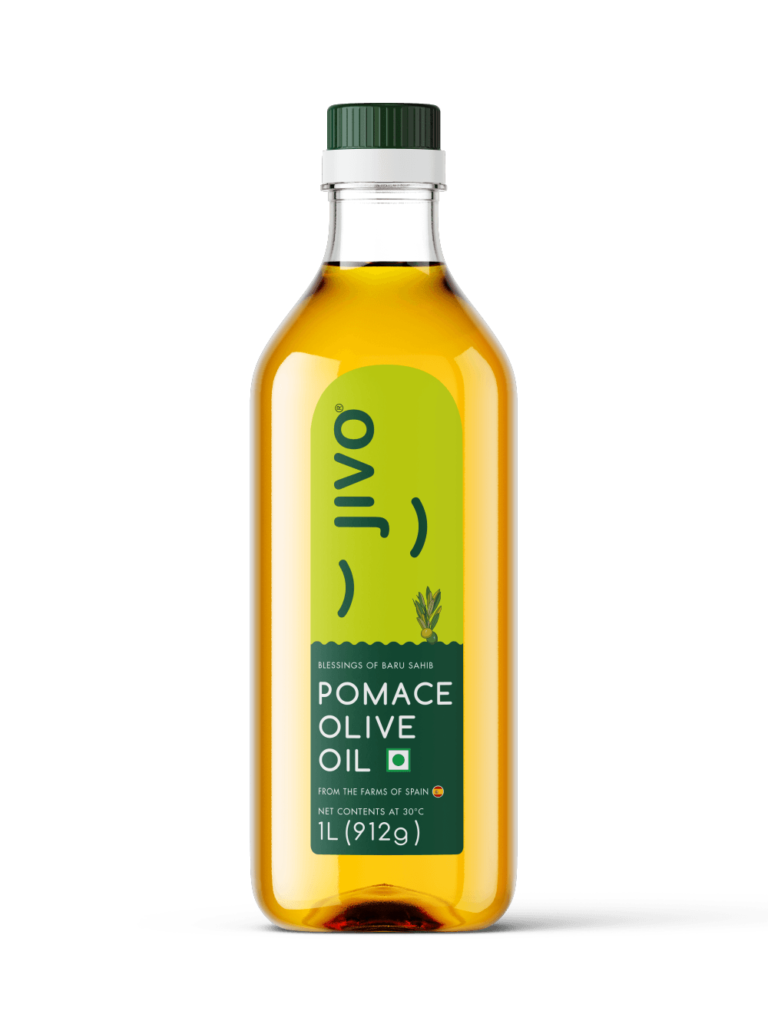 WHAT IS POMACE OLIVE OIL
Jivo Olive Pomace oil has neutral taste and aroma. It is ideal for all Indian cooking specially
for Deep frying (Roasting) Sautéing & Grilling. Jivo Pomace Olive Oil does not change the
Original taste of Daily Indian cooking. It has a high smoking point which makes it ideal even
for deep frying. It is less absorbed in food very less ensuring low intake of Oil. You can
prepare all Type of Cuisine using Jivo Pomace Olive Oil.
Jivo Wellness was formed in September 2010 by establishing its first State of Art rotary EOP
plant in Kundli, Haryana. The plant was inaugurated by Mr. Gerry. Ritz (Agriculture minister
of Canada) with an idea to serve humanity & to change the country's nutritional attributes
by introducing canola oil as a mother nature's gift to mankind in India.

POMACE OLIVE OIL

BENEFITS

Regular consumption of olive pomace oil can help keep your arteries clear. That's because
pomace olive oil is 80 percent monounsaturated, which can help lower the cholesterol levels. It
also retains the benefits of olive oil, including a high level of oleanolic acid which helps lower high blood pressure.

INGREDIENTS
Refined olive oil 90% by weight and Extra virgin Olive oil 10% by weight

ABOUT POMACE OLIVE OIL ONLINE
Gluten-Free
Good for Scalp Treatment
Pomace Oil keeps its nutrients when it heats, keeping food healthy and ideal for
Cooking
Pomace Olive Oil uses as massaging oil can gives a healthy and smooth skin
Has light flavor & aroma, ensures minimal change in the taste of preparation
Vitamin E in Pomace shields the body from infections and helps in faster healing
Low-Cholesterol Content
Vitamin K in Pomace improves bone density and strength
Storage Instruction: Store in a cool, dry & hygienic place, away from direct heat & light
Rich in MUFA and essential vitamins that strengthens the body with good fat and
lowers the effects of bad cholesterol